Have you got your guest room ready for Christmas company yet? I hadn't changed anything in the guest room for a long long time, so I thought "why not this year" Then.......I thought....the guest room is seldom used! So, I decided to get new bedding for our master bedroom and give the "hand me down" bedding to the guest room. Why not!!! The bedding in the master bedroom is only a couple of years old and still in good condition, so ....that's what I did!

I decided to go with a neutral color scheme this time, lots of texture, a little glam and a touch of elegance. H couldn't care less what color his bedding is....just as long as the sheet are soft. I didn't buy a blanket to replace the one that went to the guest room. Instead, I chose to have a white cotton sheet next to us and a dark beige satin sheet on top of that. They aren't heavy and the layers keep us really warm.
I chose a bedspread with a 30" drop gathered skirt similar to the one I had admired at Pine Cone Hill, but at a much lower price. (At Home)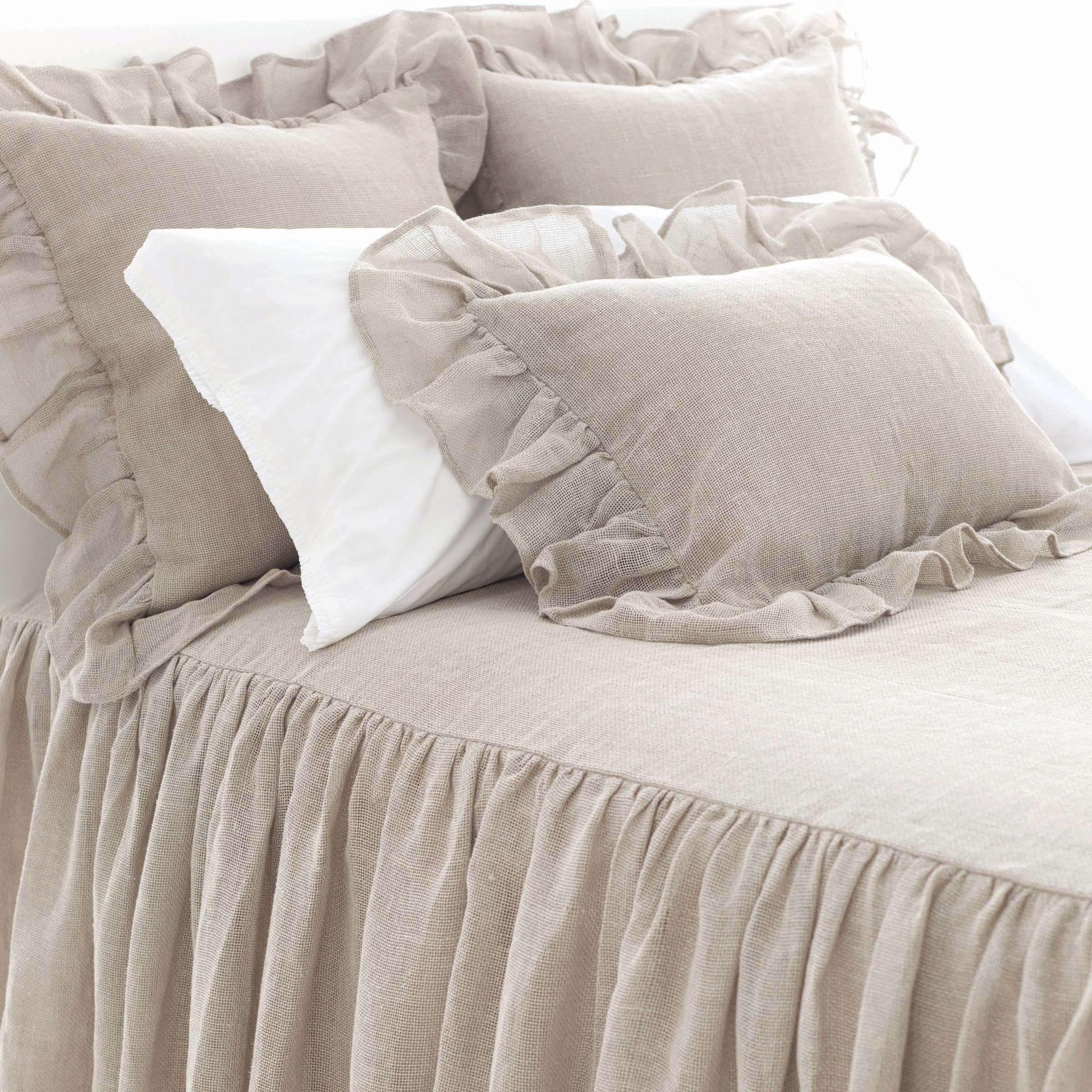 This is the one I liked so well at Pine Cone Hill,
I also created a new floral design for the side table......
I replace the round table with a narrow side table and chair.

The round table covered with a wedding dress skirt had been there about 5-6 years so it was tire for a change. Don't worry, there will still be ruffles. I ordered ruffled curtains for the window that should be here Tuesday.
My "new to me" chair is a recent yard sale purchase.....
I haven't decided if I will paint it white or leave it natural.....
I also haven't decided what material to use for the new upholstery. I have narrowed it down to these two. The vintage floral piece is fabric that I have been saving for just the right project, and the other piece matches the bedspread..
I have the fabric draped on the chair so I can live with it a few days, then I'll drape the other piece over the chair for a few days. Then I will make my choice.
I have the bed turned back so you can see how I layered the sheets I also put the white fur throw at the end of the bed in case I get cold during the night....there's one just like it one H's side..